Interact With The Animals
Green Horse Farm Animal Park and Petting Zoo is located in Dornsife, PA just 24 minutes from Sunbury, Pa. We are situated in a peaceful rural setting that provides an abundance of shade for animals and visitors alike. With over 100 animals of various species, we provide a unique interactive, experience that allows visitors to get closer to the animals than ever before. Pet a camel, hold a baby pig, and reach out to touch wildlife!
Green Horse Farm Animal Park and Petting Zoo is an amazing interactive farm where you can get closer to animals than at most other zoos. Whether you stop to pet a donkey, hug a camel, or spend the afternoon playing among the goats, you'll have personal experiences with all of our animals. You can get a complete list of the animals by visiting our Meet the Animals page.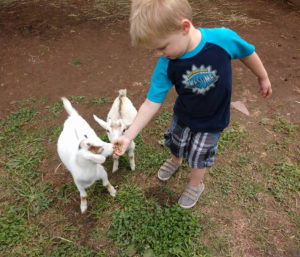 To enhance your visit, animal feed is available for purchase. You can purchase food at our ticket booth. It is just $2.00 for a small bucket of feed. You can take your feed into the petting zoo and on the wagon ride through the safari field. We also have a feeding area for the the camels, and ostrich.
Please note that due to animal nutritional balance and federal animal safety laws, only food provided by Green Horse Farm Animal Park And Petting Zoo may be fed to the animals. Anyone who feeds the animals outside food of any kind will be immediately removed from the park without refund.